Need a snuggle? Uber delivers kittens on demand -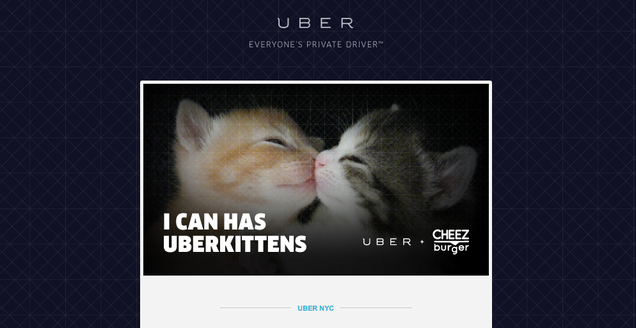 Cuddly kittens got busted Wednesday at the security desk of the Washington Post.
The Express decided to try out Uber's Wednesday-only offer to pay $30 to have a kitten delivered to you for 15 minutes of snuggling. The delivery seemed to not be a problem: Two kittens, Sneezy and Sleepy, showed up in a crate at The Washington Post's main lobby, according to pictures from our Express colleagues.
But apparently The Post's security wouldn't let them inside the offices, according to Holley Simmons, dining editor at The Washington Post Express.
She told us in an e-mail "security wouldn't let us take Sneezy and Sleepy up to our office."
It was not immediately clear why the fur balls weren't allowed into the office.
Simmons said that at the end of the 15-minute kitten snuggle time, Uber took the little ones back.
Uber is running its kitten promotion Wednesday from noon to 4 p.m. in seven cities, including D.C. The six other cities — New York, Chicago, Austin, Phoenix, San Francisco and Seattle. But in New York, they say, kittens can be delivered only to offices.
Uber states on its blog, "Once the kittens arrive, you and your friends will get to enjoy 15 minutes of kitten cuteness!" And it gives a tip — "make sure to have an enclosed space purrrfect for playtime!"
Most of the kittens are eligible for adoption — although it is doubtful you can keep them under your cubicle for the rest of the day. Participants are advised to ask the kitten delivery person for more details on adopting the fur balls.
The money from the publicity stunt goes to local shelters participating in the event.
Read more -
http://www.washingtonpost.com/blogs/local/wp/2014/10/29/need-a-snuggle-uber-delivers-kittens-on-demand/