Semen Has Anti-Aging Benefits? Heather Locklear Says So... -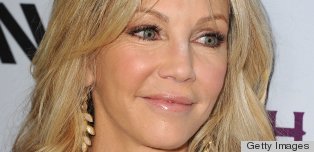 It's already been proven that Heather Locklear is doing a bang-up job aging with grace. (Seriously, she looks the same age as her 15-year-old daughter.) So when the 51-year-old actress offered up the secret to her great skin, we listened closely... and were subsequently grossed out.
In an on-camera conversation with TMZ reporters, she was asked if she had any recommendations for anti-aging skincare products. Her reply? "You just put semen on your face."
Leaving aside the fact that we can't tell if she's kidding, we have reason to actually take this one seriously. Sure, the thought is gross (as are TMZ's puns on the matter -- "shot to the face," anyone?) but the research is there: Semen may have anti-aging benefits.
Semen as an anti-aging treatment saw a spike in popularity (or at least curiosity) around 2009. Turns out spermine, one of the components of semen, is high in anti-oxidants and can be used to smooth out wrinkles. An enterprising Cosmo reporter even went and got a sperm facial at a swanky New York spa, confirming that her skin did feel smoother afterwards.
None of which convinces us to start incorporating spunk into our beauty routines. But hey, have you seen Heather Locklear lately? Her skin looks amazing.
Read more -