83-year-old Virginia woman was mauled by a Rabid Beaver Wednesday -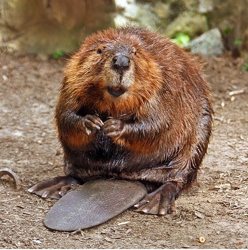 An 83-year-old Virginia woman was mauled by a rabid beaver Wednesday as she left a lake where she had been taking a routine swim, The Washington Post reported.
"It bit me so bad," Lillian Peterson told the paper during call from her hospital bed. "I started kicking it with my other leg, but I wasn't sure what to do."
The 35-pound beaver made its attack as Peterson was exiting Lake Barcroft in Fairfax County, the paper reported. There was a struggle. Peterson tried to beat the animal with a walking stick, but the animal was relentless. It left puncture wounds over much of Peterson's body and nearly bit off her thumb. The entire ordeal, the paper reported, lasted about 20 minutes.
A witness to the attack called 911 and tried to help the woman. But the beaver made its way to his boat and the man beat the beaver back with a paddle, the report said. The beaver appeared to be dead, but reportedly made more attempts at rescuers until it was eventually euthanized.
"There's no way I will swim in that place again," she told The Post.
DC Breaking Local News Weather Sports FOX 5 WTTG
Read more: http://www.foxnews.com/us/2012/09/06/it-bit-me-so-bad-says-virginia-woman-83-mauled-by-rabid-beaver/?test=latestnews o