Billy Graham's group removes Mormon cult reference from website after Romney meeting -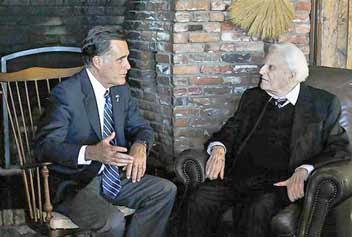 Shortly after Republican presidential candidate Mitt Romney enjoyed cookies and soft drinks with the Rev. Billy Graham and his son Franklin Graham on Thursday at the elder Graham's mountaintop retreat, a reference to Mormonism as a cult was scrubbed from the website of the Billy Graham Evangelistic Association.
In a section of the website called Billy Graham's My Answer there had been the question "What is a cult?"
Answer: "A cult is any group which teaches doctrines or beliefs that deviate from the biblical message of the Christian faith."
"Some of these groups are Jehovah's Witnesess, Mormons, the Unification Church, Unitarians, Spritualists, Scientologists, and others," the site continued.
No longer. On Tuesday, the Billy Graham Evangelistic Association confirmed that page has recently been removed from the site.
"Our primary focus at the Billy Graham Evangelistic Association has always been promoting the Gospel of Jesus Christ," Ken Barun, chief of staff for the association, told CNN in a statement. "We removed the information from the website because we do not wish to participate in a theological debate about something that has become politicized during this campaign."
Follow the CNN Belief Blog on Twitter
Romney is a lifelong member of the Church of Jesus Christ of Latter-day Saints, members of which are known as Mormons.
The information about cults can be found on cached sections of the website on Archive.org from June 5, 2010.
The theological question of where Mormons fit on the religious spectrum has drawn more attention because of Romney's candidacy. Mormons consider themselves to be strong Christians. Many traditional Christian denominations disagree, though rank-and-file members have their own views on the matter.
The removal of the post from the Graham group's website was first noted by the New Civil Rights Movement website and then later by the Asheville Citizen-Times, which reported that the information on cults was accessed as recently as Thursday afternoon.
Last week's meeting between Romney and Graham was their first.
After the 30 minute sit-down in Montreat, North Carolina, just outside Asheville, Romney campaign spokesman Rick Gorka told reporters that Billy Graham led a prayer for the Romneys, saying "I'll do all I can to help you. And you can quote me on that."
Read more -
http://religion.blogs.cnn.com/2012/10/16/billy-grahams-group-removes-mormon-cult-reference-from-website-after-romney-meeting/?hpt=hp_t1