Looting spreads in Argentina's third largest city as police go on strike -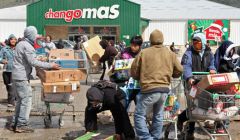 Looting and robbing spread to several areas of the Argentine city of Cordoba on Tuesday evening and night following a walkout from the police in the midst of a conflict over pay and other benefits.
The Supermarkets association has anticipated its members will not open their stores on Wednesday unless police forces are back patrolling the streets of Argentina's third largest city which is also an important manufacturing pole.
Television film showed mostly youngsters breaking into supermarkets and robbing food, drinks and electronics, while the stores were defenseless. Women could also be seen.
Public transport has warned that without law enforcements officers back on the beat they will not be operating on Wednesday since some of their units and passengers have been mugged.
The conflict started after negotiations for salary increases with the provincial government broke down and the police force decided to go on strike.
Read more -