Fairway sinkhole swallows golfer at golf course -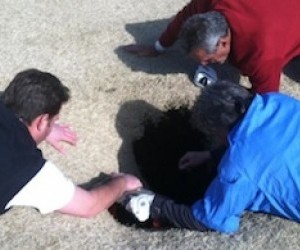 While golfing with friends at the Annbriar Golf Course near here Friday, Mihal, 43, a mortgage broker from Creve Coeur, abruptly dropped into the ground on the fairway of the 14th hole. It was the first time a person — and not a ball — has disappeared beneath the turf in the course's 20-year history.
It also was the first time in the memory of folks who study sinkholes in Illinois that a person has fallen into one.
"I was standing in the middle of the fairway," Mihal said Monday. "Then, all of a sudden, before I knew it, I was underground."
Mihal said he fell into the mud floor of an enclosure shaped like a bell, up to 18 feet deep and 10 feet wide. The rescue was precarious, he said, because no one knew whether the surface hole would grow or the enclosure would collapse.
A companion called the course's pro shop, where general manager Russ Nobbe gathered some rope and a ladder and rushed to the rescue. Mihal had dislocated his shoulder, so Ed Magaletta, a friend and a real estate agent, climbed down and put a rope around Mihal's waist so he could be hoisted to safety.
The rescue took less than 20 minutes, but Mihal said his mind quickly went to an incident two weeks ago in Seffner, Fla., where a sleeping man dropped into a huge sinkhole that opened beneath his bedroom. Authorities never recovered the body of that victim, Jeffrey Bush, 36.
"That certainly went through my mind when I was down there," Mihal said. "It looked like it was more room to go down (in the hole). I wasn't too happy to be in there."
Read more -
http://www.stltoday.com/news/local/illinois/fairway-sinkhole-swallows-golfer-at-annbriar/article_1e0035d1-6ac2-59b4-ad5f-66a28c631e36.html