Reading - Lady Greyhound Bus passenger stranded in Memphis four days - Complains to Press - gets Kicked out in the Cold! -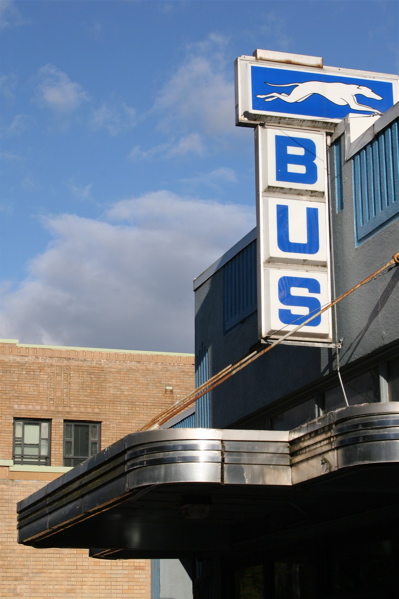 MEMPHIS, TN (WMC-TV) - Dozens of Greyhound bus passengers were stranded in downtown Memphis Sunday afternoon waiting to get back on the road.

The bus passengers, who had been stranded when a winter storm hit the Mid-South Friday, began to get frustrated by Sunday afternoon.

Clint Allen from Texas was trying to get to Omaha, Nebraska but got stuck in Memphis for four days. He said it was not just the wait that bothered him. It was the lack of communication.

"They won't even talk to you in here," Allen said. "You ask them something and they're real snappy with you."

Allen was also delayed in Dallas, but said the people at that Greyhound station were far more accommodating than in Memphis.

"We got laid over in Dallas and they gave us free meal vouchers there because we were stuck for ten hours," Allen said. "We've been stuck here since Thursday and they won't even help you with a free cup of coffee."

Jimmy Gipson has been stuck for two days and said he needs to be at work Monday morning.

"They're taking buses to Chicago," Gipson said. "Why can't they go to St. Louis or Columbia, Missouri?"

When Action News 5 interviewed another stranded passenger, Cynthia Caponey, a security guard threatened to not let her back inside the station, claiming Greyhound "has that right."

Caponey was trying to get to St. Louis to see her son and grandsons.

"We're all at a loss in there, trying to figure out why we're the only ones not moving," Caponey said.

Caponey was in disbelief at how the security guard treated her.

"Just because I wanted to say something and voice my opinion," Caponey said. "I should be able to, I guess I'm not understanding that."

Despite the security guard's threats, Caponey decided to be interviewed in hopes of getting help for the other passengers.

After the interview, the security guard kicked Caponey out of the station, forcing her to wait outside in the cold for her bus.

"I should be able to talk to who I want to, when I want to," Caponey said.

Caponey said she thinks the Greyhound station in Memphis needs new management.

"It's not just for me," Caponey said, "it's for everybody else who comes through here."

Click here for additional video recorded outside Greyhound you didn't see on TV.

Monday, Greyhound Spokesperson Maureen Richmond said the company was is in the process of identifying the individual security guard, who she said would be counseled and disciplined.

"We welcome that interaction between passenger and media, and the security guard in question really had no authority to remove a passenger in this case," she said.

But that came too late for Caponey, whose son made the drive from St. Louis to pick her up from outside the station.
Richmond said Greyhound would reach out to Caponey to speak further with her about what happened.