SUV crashes after driver's armpit hair set on fire -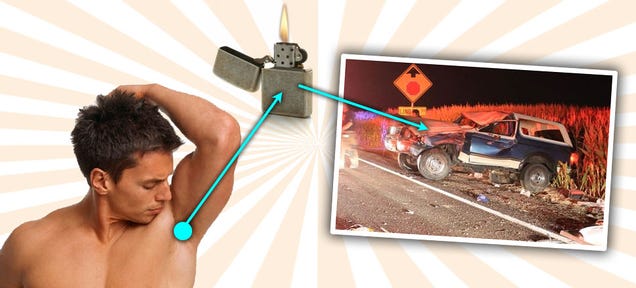 An SUV carrying five teenagers crashed in Boise, Idaho, after a front-seat passenger lit the driver's armpit hair on fire.
The 5:30 a.m. Sunday crash sent three of the teens to hospital with non-life-threatening injuries, KREM.com reported.
Police said none of the teens were wearing seatbelts when a 16-year-old boy riding in the front seat used a lighter to torch the armpit hair of driver Tristan Myers, 18, who then lost control of the Ford Bronco and crashed.
Two girls riding in the back were thrown from the SUV.
Cops said Myers was speeding and driving erratically prior to the accident, KREM.com reported.
He initially told police he swerved to avoid hitting an animal but the truth about the flaming armpit came to light when those involved were questioned.
Myers was charged with inattentive driving while his pal with the lighter was handed a ticket for for interfering with the driver's safe operation of a vehicle, KREM.com reported.
Read more -
http://www.torontosun.com/2014/09/17/suv-crashes-after-drivers-armpit-hair-set-on-fire