Elderly couple kicked out of Culpeper Va. McDonald's Update - Southern hospitality - Free Lunch Everyweek For Ever -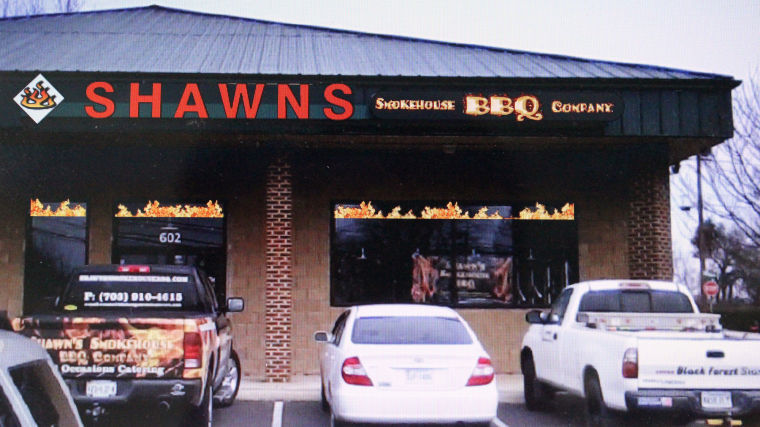 Carl and Barbara Becker are loving Shawn's Smokehouse BBQ Company.
Three weeks after getting booted out of the Culpeper McDonald's because they supposedly stayed too long, the long married couple - both in their 80s - enjoyed an elaborate lunch on the house Wednesday at the locally owned eatery on Sperryville Pike in the town of Culpeper.
"I think it's delightful," said Mrs. Becker, enjoying ribs, chicken, brisket, BBQ, macaroni and cheese, cole slaw, baked beans and more. "This was special."
In fact, BBQ Company owner Shawn Moss has offered the Beckers free lunch every week for the rest of their lives. He personally served the couple Wednesday.
"We wanted to show there is still good Southern hospitality around," Moss said. "Culpeper is a great area, and has a lot of great restaurants. We want to keep the good name around here."
News about what happened to the local grandparents at McDonald's on Feb. 21 spread fast after Mr. Becker, a World War II veteran, sent a letter to the editor at the Star-Exponent that published earlier this month. Since then, news stations in Washington, D.C. and beyond picked up the story that is also all over social media sites like Facebook.
According to the Beckers, they were asked by a manager to leave the restaurant on James Madison Highway they often frequented in between lunch and dinner because they had overstayed an arbitrary 30-minute time limit.
The manager approached them after Mrs. Becker complained when an employee started sweeping while they were still eating, kicking up dust.
Culpeper McDonald's Franchisee Bob Drumheller, in a statement Wednesday, said there is no 30-minute limit to dining in his establishment.
"I care deeply about the comfort and satisfaction of all my customers and members of our community, especially our veterans like Mr. Becker," he said. "I have reached out to Mr. Becker and his wife to extend my apologies for this misunderstanding and welcome them back to our restaurant any time. My organization invites all customers to come in and enjoy our McDonald's with the understanding that we do not have a 30-minute limit policy. Our focus will continue to be to serve our customers and our community by providing a welcoming experience."
Mrs. Becker, of Rixeyville, said Wednesday that she accepted Drumheller's apology.
"But I told him I am still not coming back to your store," she said. "I told him it needed some reformulating and the managers need training - they don't treat people right."
Mrs. Becker said they were shocked when they were asked to leave, and in disbelief by the ridiculousness of it all.
"We kind of looked at each other and laughed, then we laughed some more because what are you going to do? You're not going to cry when you are told to leave, you leave, but you feel about this high," she said, holding her fingers about an inch apart.
The fact that other customers stay much longer using the free high speed Internet available on site never seemed to bother the McDonald's employees, added Mr. Becker, a former English teacher and retired engineer who served with the U.S. Army Air Force from 1945 to 1947.
The 87-year-old enlisted at age 16 in Evansville, Indiana where he attended high school.
"All the guys were doing it, so we went down and signed up - that was just what you do," he said. "I don't think you ever thought of it as duty - it's just something you do."
Everybody was involved in the war effort at the time, Mrs. Becker added. Her husband, before he enlisted, collected metal while she collected kapok fiber from trees, used in making life jackets.
"The patriotism was much different than it is today," she said.
As for Southern hospitality, Shawn Moss wants to keep that intact in Culpeper. His mother, Sue Moss, working side by side with her son, whole-heartedly agreed.
"To me, you do everything you can to make your customers feel comfortable and happy and leave with a feeling that the food was great and the people were nice," said the longtime caterer.
Mrs. Becker said Shawn is "a real sweet fella." The BBQ shop owner is further capitalizing on the good deed by launching a Wednesday's "scrunch time" for all local seniors, offering free coffee in between lunch and dinner hours. The Beckers came up with the term to describe their weekly visits to the Culpeper McDonald's, now a thing of the past.
"Our scrunch time is about 2:30 so we were not really disturbing the restaurant and you can get as much time as you want, more than half an hour and you won't get kicked out," Mrs. Becker said.
She added, "I feel like I should take a bunch of timers to McDonald's with a list and have everyone sign in and they get their timer so when it rings after half-hour you get up and go. There is something amiss in that Culpeper store."
She said they would continue to eat at the McDonald's in Warrenton, 16 miles from their home. Drumheller also owns that restaurant in addition to the McDonalds in Luray, Bealeton and Opal.
Read more -
http://www.dailyprogress.com/starexponent/news/local_news/southern-hospitality-at-shawn-s/article_7992482e-aa20-11e3-ba84-0017a43b2370.html