Genetically modified monkeys created with cut-and-paste DNA -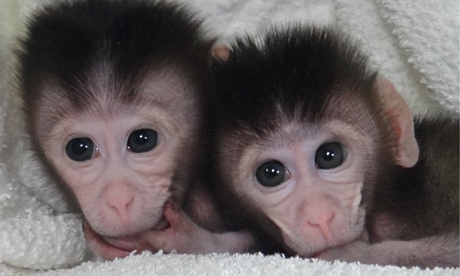 Researchers have created genetically modified monkeys with a revolutionary new procedure that enables scientists to cut and paste DNA in living organisms.
The macaques are the first primates to have their genetic makeup altered with the powerful technology which many scientists believe will lead to a new era of genetic medicine.
The feat was applauded by some researchers who said it would help them to recreate devastating human diseases in monkeys, such as Alzheimer's and Parkinson's. The ability to alter DNA with such precision is already being investigated as a way to make people resistant to HIV.
But the breakthrough is controversial, with groups opposed to animal testing warning that it could drive a rise in the use of monkeys in research. One critic said that genetic engineering gave researchers "almost limitless power to create sick animals".
The work was carried out in a lab in China, where scientists said they had used a genome editing procedure, called Crispr/Cas9, to manipulate two genes in fertilised monkey eggs before transferring them to surrogate mothers.
Writing in the journal, Cell, the team from Nanjing Medical University reported the delivery of twin female long-tailed macaques, called Ningning and Mingming. Five surrogates miscarried and four more pregnancies are ongoing.
The Crispr procedure has been welcomed by geneticists in labs around the world because of its enormous potential. Unlike standard gene therapy, Crispr allows scientists to remove faulty genes from cells, or replace them with healthy ones. It can even correct single letter spelling mistakes in the DNA code.
The Chinese team, led by Jiahao Sha, said their work demonstrates how Crispr could be used to create monkeys that carry genetic faults that lead to diseases in humans. But the same could be done to small pieces of human organs grown in the lab, and used to test drugs, or to monitor the progress of serious diseases.
Nelson Freimer, director of the centre for neurobehavioural genetics at the University of California in Los Angeles, said that while researchers often use mice to study human diseases, brain disorders are particularly hard to recreate in the animals because their brains are so different.
"People have been looking for primate models for a whole list of diseases, but in the past it's been either completely unfeasible, or incredibly expensive. This is saying we can do this relatively inexpensively and quickly, and that is a major advance," said Freimer.
But Freimer added that the use of monkeys was likely to remain a last resort. "It's going to be really critical to define the problems for which this is used, just as you always do with animal research. You want to use all the alternatives before you propose animal research. This will be reserved for terrible diseases for which it offers hope that cannot be gotten any other way," he said.
Tipu Aziz, who has used primates in his work on Parkinson's disease at Oxford University, welcomed the new procedure. "If we can identify genes for neurological disorders in a clinical setting and transpose those into a monkey it would be of massive benefit. I don't know that it'll lead to a rise in the use of monkeys, but it will lead to more focused studies," he said.
Read more -
http://www.theguardian.com/science/2014/jan/30/genetically-modified-monkeys-cut-and-paste-dna-alzheimers-parkinsons