Black customers claim discrimination by Barneys & New York police - were stopped after making expensive purchases -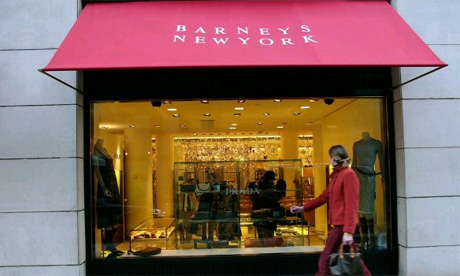 A civil rights organization on Thursday demanded a meeting with the CEO of Barneys New York and threatened to picket the luxury department store in Manhattan after two black customers said they were stopped by police after making expensive purchases.
Trayon Christian, 19, of Queens said after he bought a $349 Ferragamo belt on April 29 he was handcuffed and detained for two hours before being released with no charges. He filed a discrimination lawsuit against Barneys and the New York City Police Department on Monday.
Undercover police swarmed Kayla Phillips, 21, of Brooklyn at a subway station and demanded to see her credit card after she left Barneys with her purchase of a $2,500 Celine purse on February 28, said her lawyer Kareem Vessup.
Phillips, a nursing student, had received a tax return and decided to splurge on the designer purse, Vessup said.
She filed notice of an upcoming lawsuit against the NYPD and plans to sue Barneys, he said.
In his lawsuit, Christian, a mechanical engineering student, said when he bought the belt, Barneys telephoned police to report a criminal act. When he stepped out of the store with his shopping bag, he was handcuffed on the sidewalk and brought to the 19th Precinct, the lawsuit said.
Police interrogated him "as to how a young black man such as himself could afford to purchase such an expensive belt and that the debit card he had in his possession had to be fake," the lawsuit said.
Michael Palillo, a lawyer representing Christian, said his client had saved up earnings from a work-study program at New York City College of Technology and was excited to treat himself to a trendy belt he'd admired on some of the rappers he follows on television.
"He enjoys fashion," Palillo said.
The racial profiling incident violated his civil rights, said the lawsuit, which was filed in state Supreme Court in Manhattan and seeks unspecified damages.
Read more -