Tampa Bay Rays' Fernando Rodney Saved from Being Trapped in Dugout Bathroom -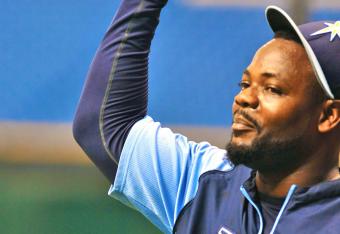 If there haven't been enough issues at O.co Coliseum this season, this latest one certainly helps add more evidence that the Oakland A's are in dire need of a new home.
On Friday, Tampa Bay Rays closer Fernando Rodney decided he needed to use the bathroom, conveniently located at the end of the visiting dugout at the Coliseum.
However, Rodney ended up getting trapped.
It took a team of stadium personnel to finally get Rodney out of his predicament, using a crowbar to eventually pry the door open and let him out. Rodney did not factor in the game, as the Rays ended up losing 4-3.
Back in mid-June, the A's and Seattle Mariners ended up having to shower in the Oakland Raiders locker room after backed-up pipes caused flooding in both the home and visiting clubhouses.
And it was raw sewage that was dumped at the time.
Disgusting? Absolutely. But Rodney's plight on Friday was hilarious to some of his teammates, several of whom could be seen cracking up after he was finally freed.
Read more -