Toyota Shows experimental robots to Help Sick, Elderly Move -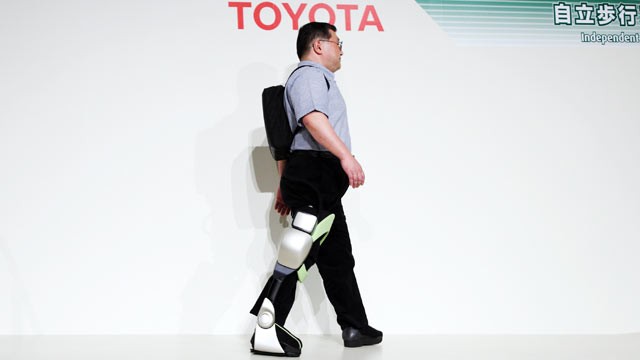 Toyota unveiled its ambitions for high-tech health care Tuesday, displaying experimental robots that the auto giant says can lift disabled patients from their hospital beds or help them walk.
The company aims to commercialize products such as its "independent walk assist" device sometime after 2013 — seeking to position itself in an industry with great potential in Japan, one of the world's most rapidly aging nations.
Eiichi Saitoh, a professor in rehabilitation medicine, demonstrated the "walk assist" device on Tuesday, strapping the computerized metallic brace onto his right leg, which was paralyzed by polio.
He showed reporters at a Toyota facility in Tokyo how the brace could bend at the knee as needed, allowing him to walk more naturally and rise from a chair with greater ease than the walker he now uses. Wearing a backpack-like battery, Saitoh walked up and down a flight of stairs, smiling with delight.
Saitoh said he had tried Toyota's machines with patients and was confident they helped people recover more quickly from strokes and other ailments that curtailed movement.
"It may be difficult to predict the future, but the era of an aging society is definitely coming," he said. "We need partner robots to enrich our lives."
Read more -
http://abcnews.go.com/Technology/wireStory/toyota-shows-machines-sick-elderly-move-14855252