Meet the countries in the Triple-A debt club - 17 countries have the world's highest credit rating, AAA -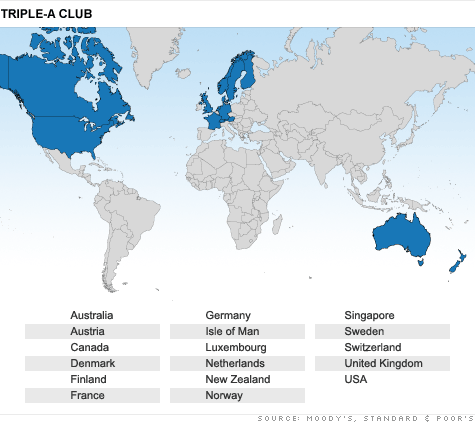 Amid the contentious debt ceiling debate, the United States is at risk of being booted out of a prestigious group of countries that boast a spotless credit rating.
Only 17 countries in the world -- currently including the U.S. -- hold the highly coveted triple-A rating from both Standard & Poor's and Moody's. (S&P rates an additional three countries as triple-A, that aren't featured on Moody's list).
Germany, Canada, France, Norway, Sweden and Switzerland are among those with the undisputed stamp of approval -- so is the Isle of Man, a British crown dependency off Ireland's east coast, and Singapore (both of which are too small to see on our CNNMoney map above.)
The triple-A rating enables nations to borrow funds at a low cost, because their governments are considered stable and their bonds safe.
The U.S. for example, has seen its dollar become the world's No. 1 reserve currency because its bonds are held in such high regard by investors. They're backed by the "full faith and credit of the U.S. government" -- which until now, has never seriously been called into question.